World
Hurricane Dorian grazes Puerto Rico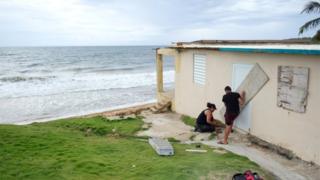 The eye of Dorian, a category one hurricane, has missed the main island of Puerto Rico.
The US territory's smaller islands, Vieques and Culetra, are being battered by heavy rain and high winds.
Dorian is considerably less powerful than the hurricanes that hit Puerto Rico two years ago.
It is expected to gather strength in the coming days, and is on course to reach the US states of Florida or Georgia by the weekend.
Florida declared a state of emergency on Wednesday. Governor Ron DeSantis said it was "important for Floridians on the East Coast to monitor this storm closely".
However, experts say it is too early to say exactly where or when it could arrive.
Dennis Feltgen, a National Hurricane Center meteorologist in Miami, told news agency AP that the "large storm" could land anywhere from South Florida to South Carolina.